Machine de liaison continue non tissée ultrasonique de 20khz:
La machine de liaison ultrasonique non tissée a également appelé la machine de mélange à ultrasons , utilisant l'onde de vibration à haute fréquence pour produire la chaleur, que la chaleur permet aux molécules de surface de matériaux de fusionner, complétant ainsi la soudure. L'ensemble du processus est entièrement automatisé. Et la machine de liaison à ultrasons contrôlée par le PLC, facile à utiliser et réaliser des économies de coût de main-d'œuvre.
Caractéristiques de la machine de liaison non tissée continue ultrasonique:
1.Efficacité, vitesse de couture est plus rapide 5 à 10 fois que de manière traditionnelle.
La largeur de la machine à quilter ultrasonique est décidée par le client.
3. La manière de non stratification d'aiguille plus de sécurité et d'environnement.
4.Le modèle de rouleau de fleur est variable pour répondre au besoin de différents clients.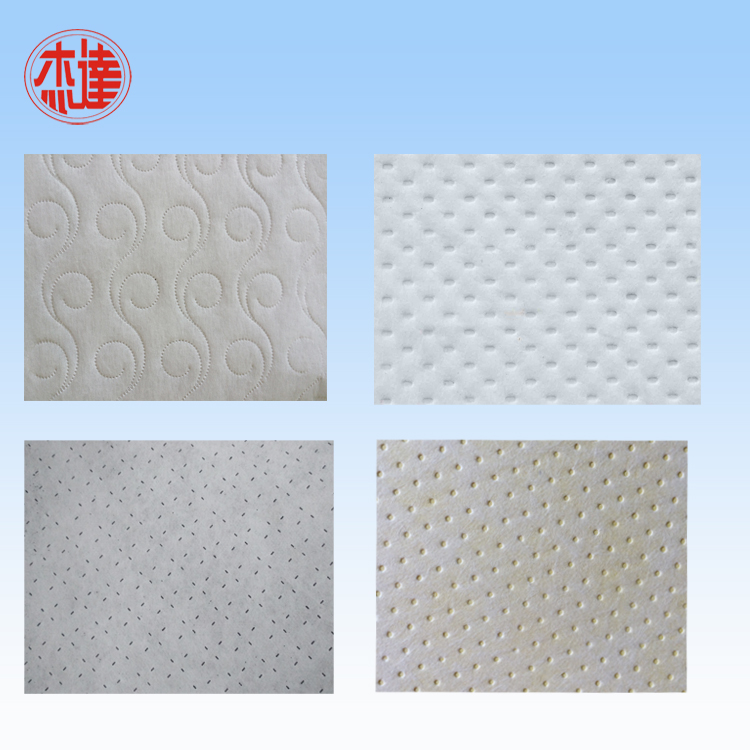 Le principe de fonctionnement de la machine de liaison non tissée continue ultrasonique:
En utilisant la propagation à haute fréquence d'onde de vibration à souder deux ou plusieurs surfaces, dans le cas de la pression, faites la surface matérielle à frication l'un de l'autre et pressez la fusion entre la couche moléculaire, son avantage est vitesse élevée, conservation d'énergie, fusion élevée , bonne conductivité, pas d'étincelle, près du traitement à froid.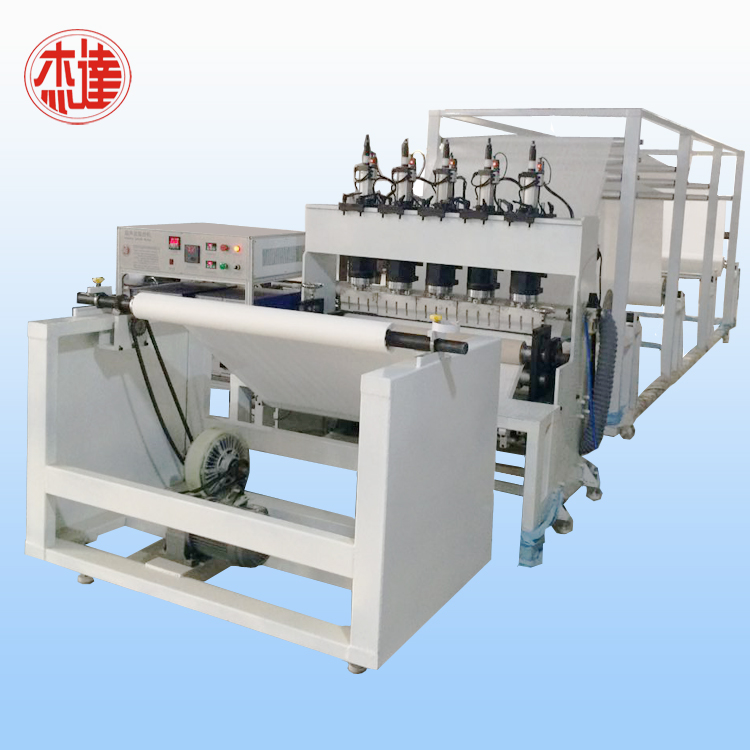 Paramètre technique de machine de liaison non tissée continue ultrasonique:
| | |
| --- | --- |
| Capacity | 0-25M/Min |
| Frequency | 20KHz |
| Voltage | 220V 50KHz |
| Power | 13KW peak |
| Welding maximum width | 1600mm |
| Air source | Compressed air(6MPA) |
| Material of frame | Connection of steel structure |
| Ultrasonic horn | Aluminum |
| Starting system | Frequency converter adjustment |
| Size | 8000*2300*2000(in kind prevail) |
| Weight | 1200kg |
Emballage:
1. La machine complète sera transférée dans un cas en bois ou selon l'exigence du client, n'a pas besoin de coût d'installation supplémentaire.
2. La conception d'installation de machine insistent sur le principe «humanisé», l'installation est simple et commode.
3. Il y a quelques marques sur la machine afin que vous puissiez trouver chaque pièce facilement, et quelques instructions d'installation, images, vidéo vous seraient fournies pour votre référence.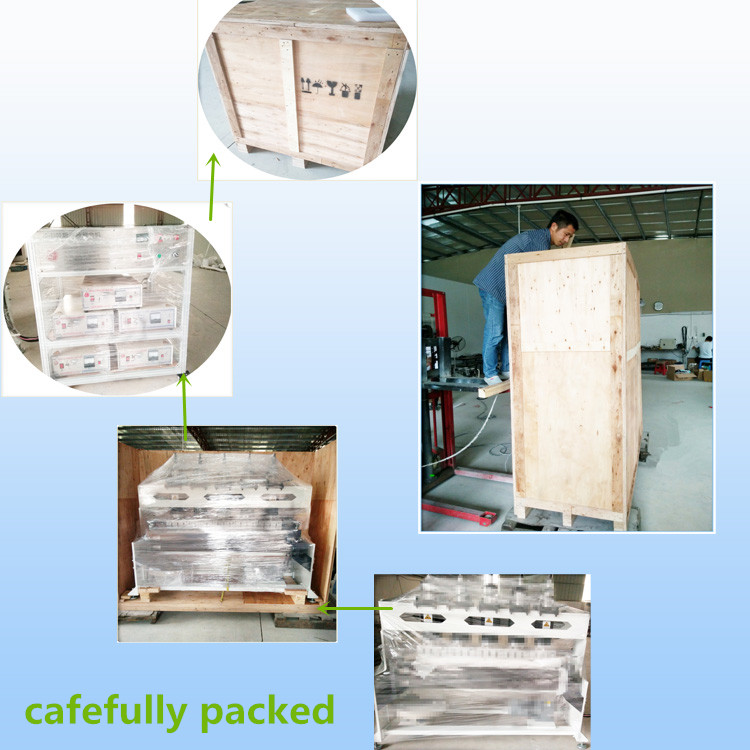 Un service:
1.12 mois de garantie pour la machine.
2. Fournir une consultation technique gratuite et d'autres services de maintenance connexes.
3.12-24 heures de service en ligne pour la configuration et les réparations de base.
4. Assurez la fourniture de pièces de rechange.
Informations sur la société:
JIEDA Ultrasonic Equipment Technology Co., Ltd a plus de dix ans d'expérience dans le développement de l'équipement mécanique, profiter de la bonne réputation sur cette ligne. Et a de nombreux clients fidèles à la fois à la maison et à l'étranger.
Produits principaux: Machine piquante ultrasonique, système ultrasonique, transducteur ultrasonique, corne ultrasonique, générateur ultrasonique, machine de soudure en plastique ultrasonique, machine non-tissée de stratification, poinçonneuse ultrasonique, découpeuse ultrasonique, etc.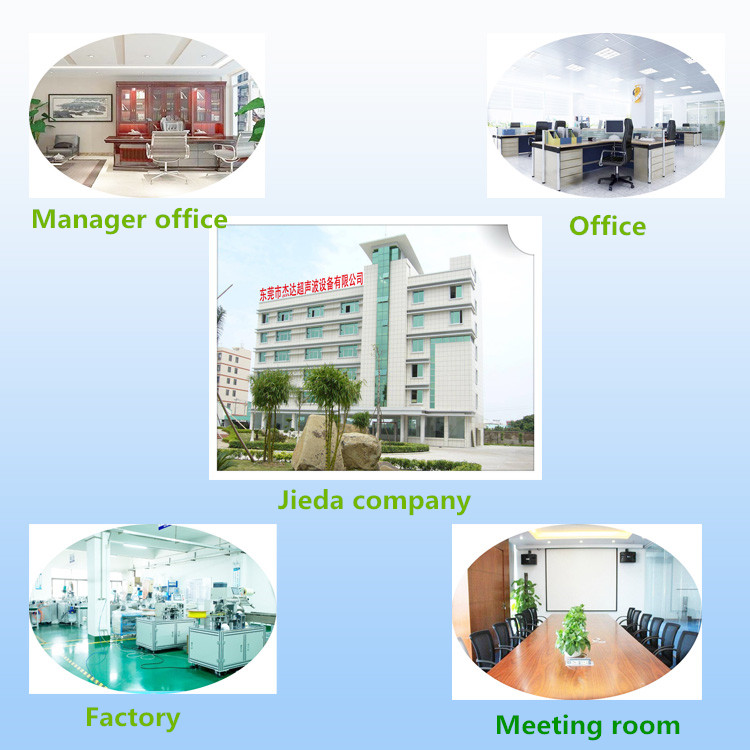 FAQ:
Q: combien de temps nous obtiendrons la machine?
A: Nous et nos clients choisissons habituellement la livraison par mer, ainsi une fois que vous passez la commande, nous organiserons la livraison dans les 3 jours, et environ 7-35days (dépendre du port de destination) vous obtiendrez la machine.
Q: Avons-nous encore besoin d'installer la machine après notre arrivée?
Un: Nous allons ajuster la machine avant que nous livrons à vous, aussi nous vous enverrons vidéo et manuel pour vous apprendre à utiliser la machine.
Q: Puis-je mettre mon LOGO / marque sur les machines et les produits de finition?
A: Oui, bien sûr. Envoyez-nous simplement votre illustration.
Q: qu'en est-il de votre garantie?
Un: Notre garantie est 1 ans, toute partie de la machine peut être remplacé gratuitement dans un an si cassé (non compris artificiel)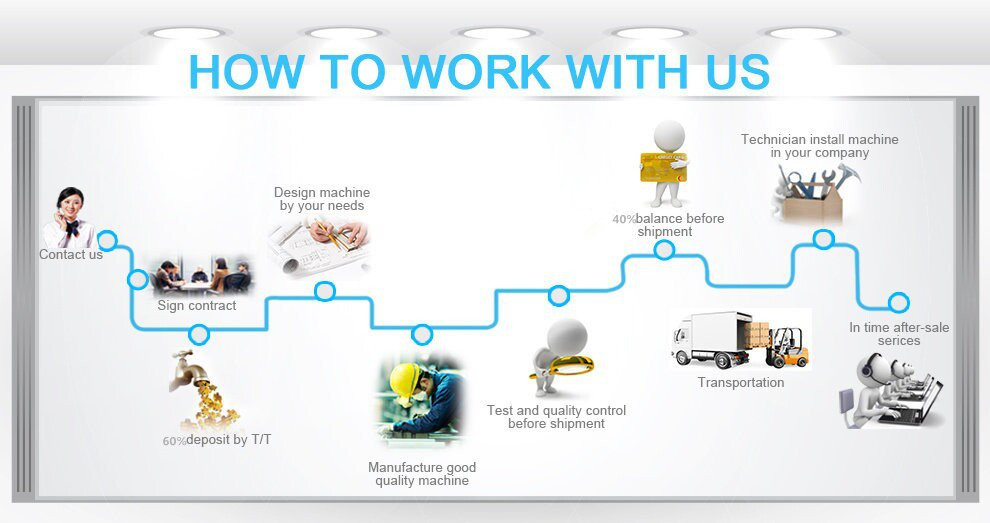 Groupes de Produits : Machine à stratifier ultrasonique > Machine ultrasonique non tissée de stratifié