Machine de gaufrage ultrasonique de tissu non tissé:
La machine de gaufrage à ultrasons utilise le principe de chauffage par friction à haute température du matériau, fabrique les deux couches ou plus de matériaux en tissu de fibres chimiques non tissés ou en un autre matériau composite fabriqué par le motif et les cornes à ultrasons gaufrées ou composées. Il peut être largement utilisé dans les domaines médical et médical, de la purification de l'air, de la protection des consommateurs, des femmes et des bébés et de la démence sénile ou dans d'autres industries.
Le principe de fonctionnement de la machine à gaufrer à ultrasons pour non tissé:
Utilisation de la propagation des ondes de vibration haute fréquence pour souder deux ou plusieurs surfaces, Dans le cas de la pression, faites frater la surface du matériau les uns contre les autres et préconisez la fusion entre la couche moléculaire, son avantage est la vitesse élevée, la conservation de l'énergie, la fusion élevée , bonne conductivité, pas d'étincelle, proche du traitement à froid.
Caractéristiques de la machine à gaufrer à ultrasons pour non tissé :
1. Efficacité: la vitesse de couture est 5 à 10 fois supérieure à la méthode traditionnelle.
2. La largeur de la machine à piquer à ultrasons est décidée par le client.
3. La manière de plastifier sans aiguille plus de sécurité et environnementale.
4.Le motif du rouleau de fleurs est modifiable pour répondre aux besoins de différents clients.
Montrant: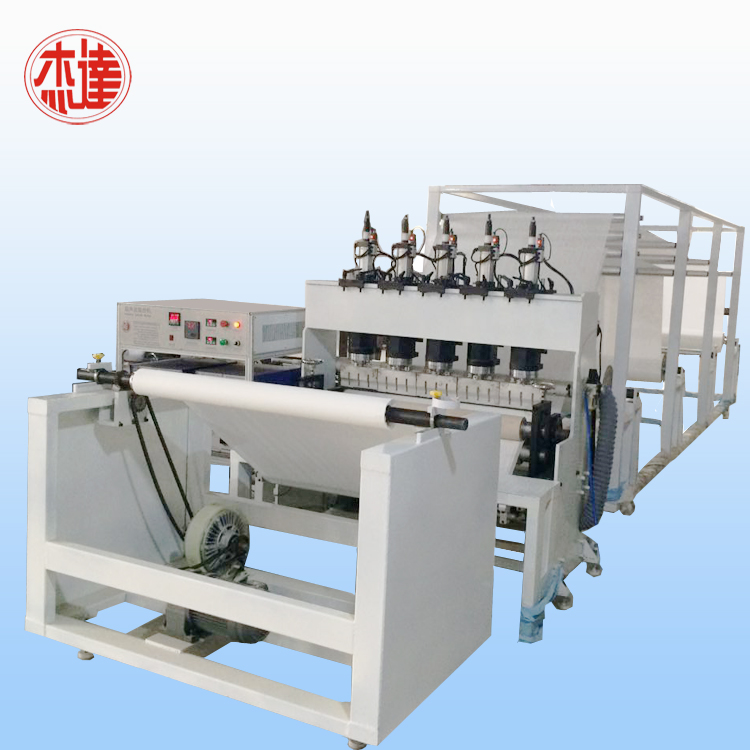 Paramètre technique de machine de gaufrage ultrasonique de tissu non tissé :
| | |
| --- | --- |
| Capacity | 0-25M/Min |
| Frequency | 20KHz |
| Voltage | 220V 50KHz |
| Power | 13KW peak |
| Welding maximum width | 1600mm |
| Air source | Compressed air(6MPA) |
| Material of frame | Connection of steel structure |
| Ultrasonic horn | aluminum |
| Starting system | Frequency converter adjustment |
| Size | 8000*2300*2000(in kind prevail) |
| Weight | 1200kg |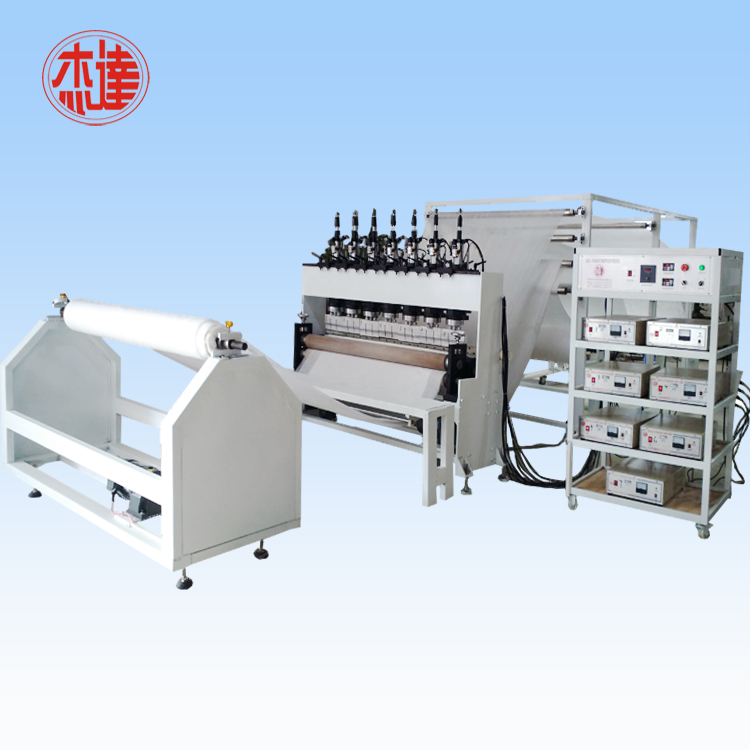 Emballage:
1. La machine complète sera transférée dans une caisse en bois ou selon les exigences du client, ne nécessite pas de coût d'installation supplémentaire.
2. La conception de l'installation de la machine insiste sur le principe "humanisé", l'installation est simple et pratique.
3. Il y a quelques marques sur la machine pour que vous puissiez trouver facilement chaque pièce, ainsi que des instructions d'installation, des images, des vidéos fournies à titre de référence.
Un service:
1.12 mois de garantie pour la machine.
2. Fournir des consultations techniques gratuites et d'autres services de maintenance connexes.
3.12-24 heures de service en ligne pour la configuration et les réparations de base.
4. Assurer l'approvisionnement en pièces de rechange.
Informations sur la société:
JIEDA Ultrasonic Equipment Technology Co., Ltd a plus de dix ans d'expérience dans le développement d'équipements mécaniques, jouissez d'une bonne réputation sur cette ligne. Et a de nombreux clients fidèles à la maison et à l'étranger.
Principaux produits: machine à piquer ultrasonique, système à ultrasons, transducteur ultrasonique, klaxon ultrasonique, générateur ultrasonique, machine à souder plastique ultrasonique, machine à plastifier non tissée, poinçonneuse ultrasonique, machine de découpage ultrasonique, etc.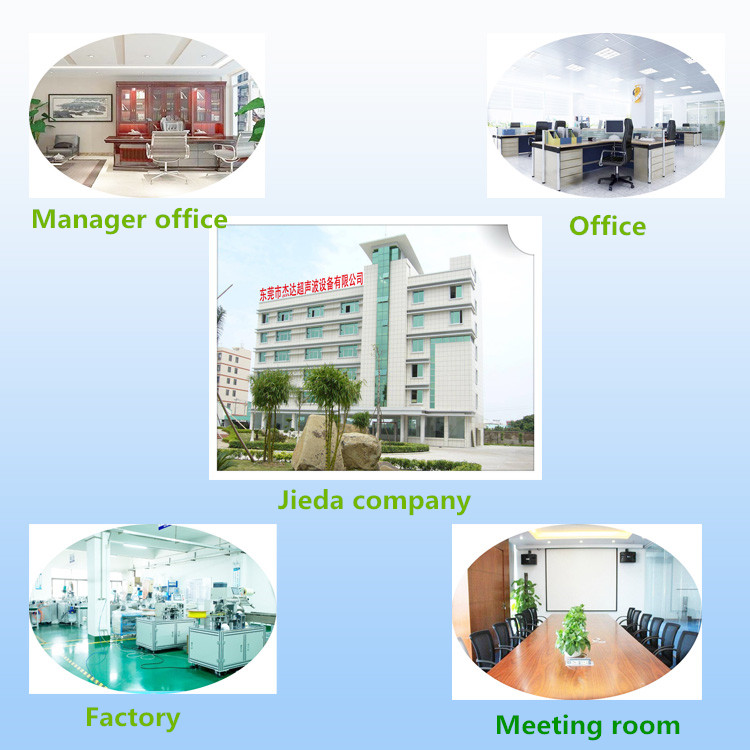 FAQ:
Q: combien de temps nous allons obtenir la machine?
R: Nous et nos clients choisissons généralement la livraison par voie maritime. Ainsi, une fois que vous passez la commande, nous organisons la livraison dans les 3 jours, et environ 7-35 jours (dépend du port de destination), vous obtiendrez la machine.
Q: Avons-nous toujours besoin d'installer la machine après l'avoir obtenue?
R: Nous ajusterons la machine avant de vous livrer, nous vous enverrons également une vidéo et un manuel pour vous apprendre à utiliser la machine.
Q: Qu'en est-il de votre garantie?
A: Notre garantie est de 1 ans, toutes les pièces de la machine peuvent être remplacées gratuitement dans un délai d'un an si elles sont brisées (sans compter la fabrication)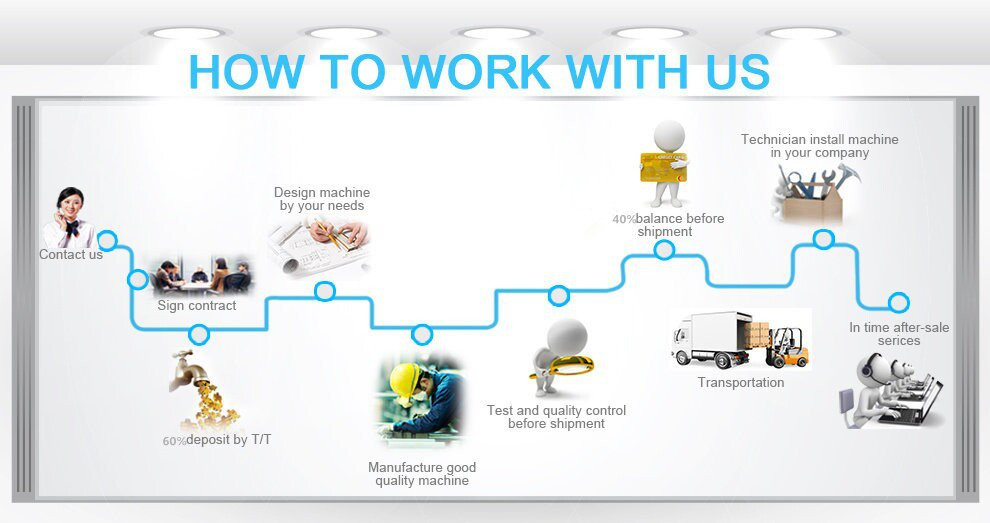 Groupes de Produits : Machine à stratifier ultrasonique > Machine ultrasonique non tissée de stratifié