Machine de découpe à gâteau ultrasonique
Machine de découpe de gâteau à ultrasons est un équipement de coupe alimentaire de type bureau. La machine supporte une variété de modes de coupe sur l'écran d'exploitation, facile à utiliser. En outre, la machine avec la caractéristique de petit volume, facile à transporter; sécurité: arrêt automatique de la coupe lorsque quelqu'un intervient. Différents types d'aliments peuvent être coupés par la machine de découpe à ultrasons , tels que des gâteaux en rond ou oblongs, des pizzas, des sandwichs.
Caractéristique de la machine de découpe de gâteau à ultrasons:
Couteau 1.non-bâton
2. La surface de coupe est lisse et belle.
3. système de positionnement automatique
4.provide une variété de mode de coupe: rond, tranché, rectangulaire, triangulaire
Application sur le gâteau, pain, pizza, sandwich.
Paramètre de la machine de découpage de gâteau ultrasonique:
frequency




20-40khz




power




4Kw




speed

60knives/min

knife

titanium

cut type

r

ound, sliced, rectangular, triangular




cutting height




60mm or 80mm




cutting size




Round: up to 12 inches

Square: up to 600mm * 400mm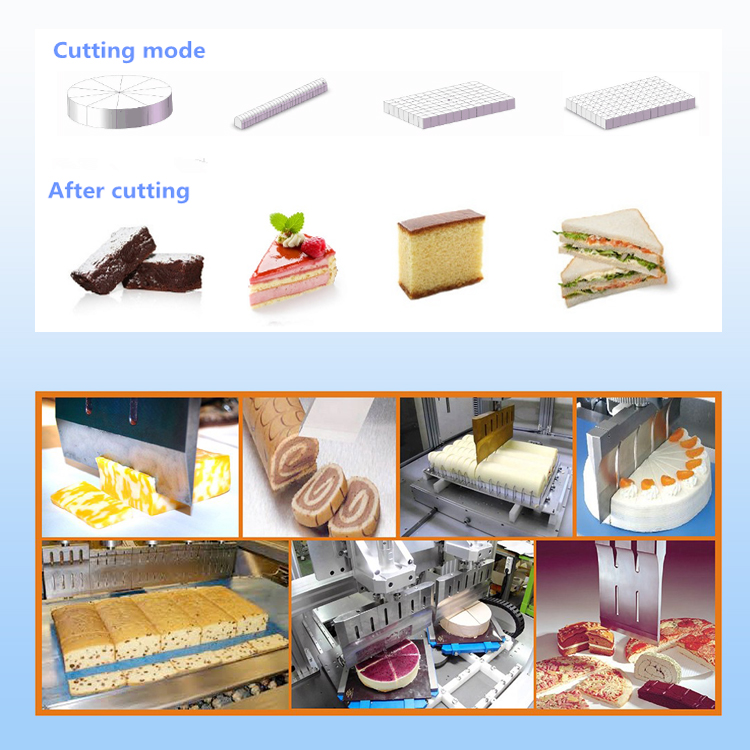 Emballage:
1. La machine complète sera transférée dans un cas en bois (ou selon l'exigence du client), n'a pas besoin de coût d'installation supplémentaire.
2. La conception d'installation de machine insistent sur le principe «humanisé», l'installation est simple et commode.
3 . Il y a quelques marques sur la machine afin que vous puissiez trouver chaque pièce facilement, et quelques instructions d'installation, des images, des vidéos vous seront fournies pour votre référence.
Un service:
1.12 mois de garantie pour la machine.
2. Fournir une consultation technique gratuite et d'autres services de maintenance connexes.
3.12-24 heures de service en ligne pour la configuration et les réparations de base.
4. Assurez la fourniture de pièces de rechange.
Informations sur la société:
JIEDA Ultrasonic Equipment Technology Co., Ltd a plus de dix ans d'expérience dans le développement de l'équipement mécanique, profiter de la bonne réputation sur cette ligne. Et a de nombreux clients fidèles à la fois à la maison et à l'étranger.

Produits principaux: Poinçonneuse ultrasonique, machine piquante ultrasonique, système ultrasonique, transducteur ultrasonique, corne ultrasonique, générateur ultrasonique, machine de soudure en plastique ultrasonique, machine non tissée de stratification, découpeuse ultrasonique, etc.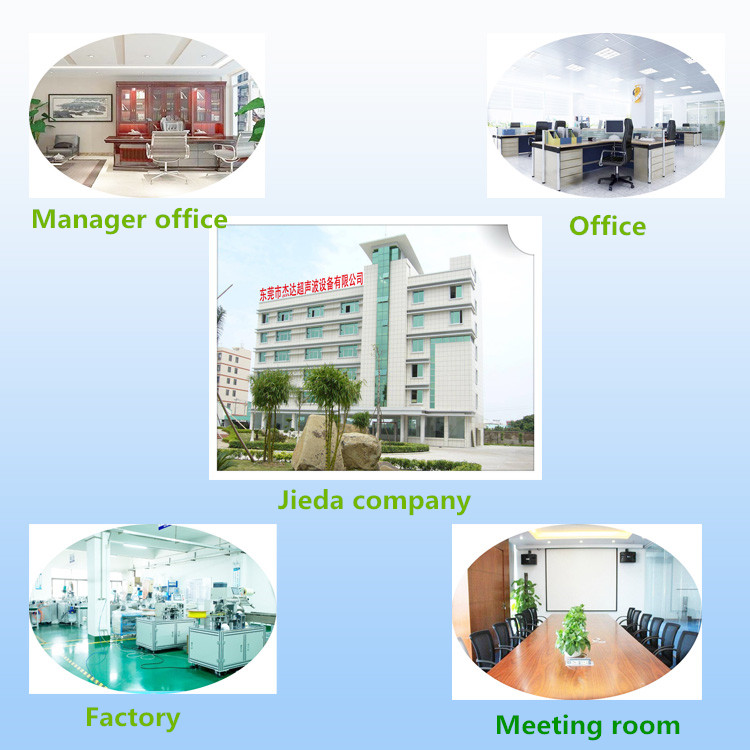 FAQ:
Q: combien de temps nous obtiendrons la machine?
A: Nous et nos clients choisissons habituellement la livraison par mer, ainsi une fois que vous passez la commande, nous organiserons la livraison dans les 3 jours, et environ 7-35days (dépendre du port de destination) vous obtiendrez la machine.
Q: Avons-nous encore besoin d'installer la machine après notre arrivée?
Un: Nous allons ajuster la machine avant que nous livrons à vous, aussi nous vous enverrons vidéo et manuel pour vous apprendre à utiliser la machine.
Q: qu'en est-il de votre garantie?
Un: Notre garantie est 1 ans, toute partie de la machine peut être remplacé gratuitement dans un an si cassé (non compris artificiel)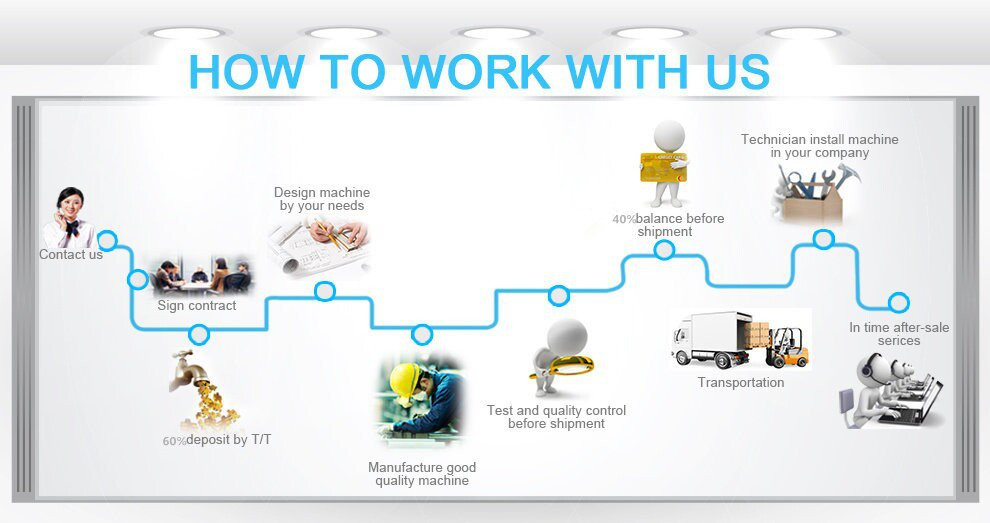 Groupes de Produits : Système ultrasonique